Arizona Momma rocks! Love her blog....and love this meme. SO
head on over
and show her some love!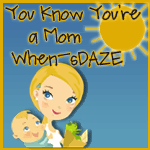 Okay, today mine is about that daunting task of grocery shopping. Now, I *used* to enjoy grocery shopping....even when I just had Delaney and was pregnant. I would make my list, cut my coupons, and head out to Fry's and Safeway. Now, 2 toddlers, sometimes 3, not so much. Turns out they don't love it. I haven't been doing coupons as much (which I really need to get back to) and I only go to Safeway now (it's the closest). But, I do get to shop at the Commissary when my mom is up for the trip out there. The problem with the commissary is we usually can only go when Eric is at work, which means...kids.
So, I load up on snacks, their cups, suckers, etc. and we head out. Here's where the meme comes in....
You know you're a mom when
, you race to get the ONLY shopping cart that has the super cool rocket. Oh and I do mean race. Sometimes, it comes down to getting dropped off at the curb so that the mom that is parking,
can't
get to it first. We always scope it out first. If the coast looks clear, we park and then head straight to the rocket. The rocket is WAY better than the car cart. Just the fact that it is up high, right next to my hands and NOT where they can suddenly escape in the produce department and you don't notice (which has never happened to me - ha), is HUGE!!!!!!
Happy kids....the beginning of the endeavor.
(Taken in front of the cart)
And the end...yes Delaney is eating a box and Brody is pulling down a flat of cans.
So, moral of the story- don't mess with a mom and her shopping cart (and if you see me at the commissary, don't even try and beat me to the rocket)