I almost didn't make this one today! I couldn't think of anything fun or cute....and then IT happened. SO....to read others hilarious parenting stories head on over to my pal
Arizona Momma
.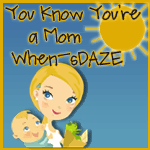 Ok, bath time at our house is a ritual. Right after dinner I whisk the kiddos off to the bathroom while Eric clears off the table. I get Brody in the tub and beg Delaney to 'pee like a princess in the potty'. She usually goes, Brody will usually close the toilet seat cover on her head once ore twice and then she flushes, there is always a 'bye bye pee pee' and then she's in.
At this point, Eric comes in to play with them and then wash them. While he is doing that, I get the pajamas out, fill the cup and bottle, get blankets ready, etc. When I get back in, I take Delaney, he takes Brody.
WELL, tonight, was a bit different. I have had a raging headache and ear ache all day long and was really ready for them to go to bed. In the middle of the bath, Delaney is blowing bubbles and Brody is standing up, trying to get out. And then I hear it. PLOP. For a second I thought it was Delaney blowing bubbles and then I heard it again and then I saw it. That's right. Brody pooped in the tub. Delaney thought it was hilarious... I was trying to get them out and salvage some of the toys so I didn't have to clean ALL of them and I am screaming for Eric because Brody man is naked and on the loose.
So you see, you know you're a mom WHEN this disgusting story, makes you laugh at the end of a long day!