Arizona Mamma started a new blog carnival last week and it's a lot of fun! To see all the details
click here
. Don't forget to do your own and link up on her blog!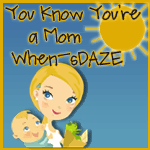 So, you know you are a mom WHEN-sDAZE is a great time to reflect on your life with kids. Man, do I have some whoppers. Usually my blog is a time to vent, to laugh, to remember all the funny things about being a mom and that's why I love this new meme. Today's post might be a bit different. I don't want to be the bummer of the blog carnival but it's just a post I felt like doing. So here it is....
You know you are a mom WHEN..... you are heartbroken for another mother who just lost her child. I didn't know this woman, but my parents were friends with her parents. Yesterday, a driver ran a red light and hit my mom's friend's car. As a result, my mom's friend died as well as her 5 year old granddaughter. Also in the car was the little girl's mother, who was pregnant. She survived, was injured, but had a baby today! I can't even imagine what this woman is going through. She lost her mother and her daughter within 24 hours of having another baby. Her dad is with her, but my heart breaks for that family. My mom told me the news this morning and I had to stop and look at my messy house, my unpaid bills, my messy kids who were fighting and sit down. I had to think about what really matters. My kids, my family.....that's what matters.
You know you are a mom when you feel everything your kids feel and want to make it better for them. You know you are a mom when all you want to do is hug a stranger to show her that you understand how deep the love for your child is. No matter what.
God works in mysterious ways.....a cliche that we have all heard. This situation is a tough one to understand. The new grandfather asked in his email for everyone to pray for the man that hit the car. I wish I knew that kind of forgiveness and grace. I will pray for all involved......
You know you are a mom WHEN....you can't imagine NOT being one.
***Don't forget to link up and share your stories***