Head on over to Arizona Momma's blog,
Our Daze in the Desert
and show her love!!!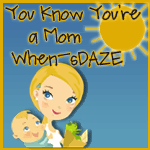 I have to preface this with an "I'm sorry Mom, but this will probably gross you out." So here it goes. I hate laundry. That's never been a secret. I have never been good at it. I suck, in fact. There is no satisfaction in it- maybe because it's non freaking stop. What goes along with laundry? Washing stupid sheets. I truly hate doing this. Delaney's sheets are hard to put on, our bed is huge and I always put at least one thing on the wrong end, and changing crib sheets.... forget about it. So, I don't exactly do it that often. I know this grosses you out Mom...you are a weekly sheet changing kinda gal, me not so much.
You know you're a mom when..... the sheets get washes, when someone pees in em. Unfortunately that is all. the. time. right now. Delaney's diaper will leak, I won't know, she'll come into my bed around 630 am (like she does everyday) and therefore gets pee all over my sheets (Eric's side:) so now I am up to 2 sets of stupid sheets. Then when Brody man wakes up, I go in, and he has peed through his diaper onto his sheets and his beloved blanket. CRAP!!! Now I know what you are all thinking. Um...hello...overnight diapers? Yeah, check- on my list.
So you see, I guess it's a good thing that they are trashing all the sheets, cuz now they are washed pretty much every other day. Thanks kids:)