Head on over to Arizona Momma's blog and
link up to the fun par-tay!!!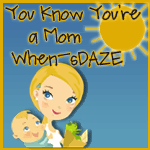 It's not a secret that Delaney is, um, let's say strong-willed:) I seriously get tired of arguing and she is only 2, I can only imagine what this shall become as she gets older. Anyway, I bought her a set of headbands (head banes, as she calls them). She was so excited to wear one. So when we went out to our favorite frozen yogurt place, I put one on her. She seriously looked like she was ready for Kindergarten. As we are leaving, she decides that I don't know what I am talking about and that her headbane, needs to be worn somewhat differently. I was tired of arguing, again.
She went from this:
To this:
The. whole.time.
Eric was having a heart attack- she looked ridiculous:)