Head on over to Arizona Momma's blog and
link up to the fun par-tay!!!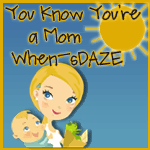 My kids are close in age.... so close that my doctor told me, when I was complaining about how low Brody was, she said, "Well, yeah, you didn't give your body anytime to recover, so he found spot (that obviously hadn't gone back to normal yet) and set up camp." "Awesome", I said. They are close.... they are also at each other NON-STOP. So you know you're a mom when you see a moment like this:
I can see of glimpse of my future when they will be great friends and play mates and will quit making me want to have a beer at noon:)
ps....aren't they cute?